Our News
«Alleanza doors» Presents its Products at the «YugBuild-2016» Fair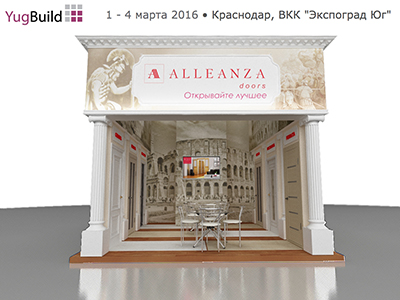 In the beginning of the March 2016, Plitspichprom Company will present the doors produced by the Company under the Trademark «Alleanza doors» at the International Fair «YugBuild-2016», Krasnodar, Russia.
The International Fair «YugBuild-2016», the largest in the south of Russia, will take place as from 01 to 04 of March 2016, in the city of Krasnodar, on the VKK "Expograd" site. Specialization of the Fair is building and finishing materials, engineering equipment, construction machinery and architectural projects. Russian and foreign exhibitors will present their products in the eight main sectors. Internal doors and door components from «Alleanza doors» will be exhibited at the section "Doors and Furniture".
The Chief Managers from Plitspichprom will present «Alleanza doors»' products at the special Company's stand. Visitors of the Fair can see there a result of mutual co-operation of European designers and AO Plitspichprom' technologists for creation of the products – internal doors and doors components of etalon design made by the Russian producer, leader in the domestic woodworking industry. The Doors manufactured with the ecologically clean materials in accordance with actual Russian GOST standards are remarkable for its quality, strengths, durability and unique exterior features.
Participation in such a remarkable profile event will allow the Company to strengthen market positions, to enlarge a dealer's net, to find new partners and clients, as well as to increase sales volume. As it is expected, more than fifteen visitors will attend the specialized woodworking Fair «YugBuild».
Just today, on the official site of the Fair, you can buy your ticket with the discount of 50%.
Reference: Nowadays AO Plitspichprom manufactures internal doors and door components in the four main serial models as Hispania, Ferrata, Gemina, and Macedonia. The basic principle of «Alleanza doors» lays in keeping the highest quality etalons, dominating in all the Russian and foreign analogs and to constantly renew its model collections range and using modern finish materials and decors.