Doors' Moulded Strip
Doors' Moulded Strip is a name of the material used in finishing details of entrance aperture. This material is traditionally sold by meters, not by pieces. There are also casing, additional planks, door box, and various profiled elements. Alleanza doors produces moulded strips made of MDF with high quality decorative lamination as the serial factory production. Assortment is an identical one to facture and color range of the same doors produced here. You may buy Door strips as a supplement to the chosen door or as separate goods.
Door Box

Elements for door leaf fixing
They are fixed immovably at the door aperture.

Additional Beam

Universal widened
elements. Used for
decoration of various depth
of the door aperture.

Casing

Profiles decorative planks,
Used for framing of the door
Aperture and for closing any
Grooves between box and wall.
| | | | | |
| --- | --- | --- | --- | --- |
| Set of Door Box | Polipropylene, CPL | 2100x74x30 mm | 2,5 pieces | 5,25 meter long |
| Door Box | Polipropylene, CPL | 2100x74x30 mm | 1 piece | 2,1 meter long |
| Casing | Polipropylene, CPL | 2150x70x10 mm | 1 piece | 2,1 meter long |
| Additional plank | Polipropylene, CPL | 2100x150x10 mm | 1 piece | 2,1 meter long |
Advantages of Door Elements made of MDF
Door element made of massive wood is significantly laborious and high-cost product. Wood naturally has some defects as cracks, knots, defective inclusions. In order to achieve quality level as per the relevant Wood standard, it would be necessary to make a sorting of raw materials very thoroughly. Exact following to the bonding and lamination technologies could guarantee absence of core tension in the ready product. This is important for possible further deformation during storage, assembling and usage of the ready product.
Original Door elements made of MDF is not susceptible to deformations; they are stable enough to temperature and moisture variations. MDF production is not too much cost; its price is a reasonable one. Besides, high density of MDF and its uniform structure support simplicity in the door montage, strength and reliability of the butt fixing.
Due to wide range of tints and colors of the Door elements made of MDF, it is always possible to choose all the suitable components for inner and outer doors with simple veneering and ecological veneering from any other producers. Therefore, high-quality Alleanza doors, with their excellent geometry characteristics, will serve as worthy substitution of more expensive and less efficient door analogs.
Telescopic Door Elements
Traditional standard shape of the door elements is gradually changing by a new technological form – system of Telescopic Door Elements. It presents a uniform system of the door box, additional planks and case' fixate. The main advantage of this lays in montage without metal bolts usage. System of planks and casings is movable due to their special construction. It can come out from the door box, making self-regulation depending on the wall depth. Because of no nails used, theoretic probability of sudden damage of the door elements is a minimal one.
Advantages of the Telescopic Door elements of Alleanza Doors is not limited by absence of metal fixing details and suitable adjustment of the door dimensions. In addition, due to universal grooves, it is possible to use during montage all the three door elements, such as:
| | | | | |
| --- | --- | --- | --- | --- |
| Set of Telescopic Door Box | Polipropylene, CPL | 2100x74x30 мм | 2,5 pieces | 5,25 m |
| Telescopic Door Box | Polipropylene, CPL | 2100x74x30 mm | 1 piece | 2,1 m |
| Telescopic Door Casing | Polipropylene, CPL | 2150x70x10 mm | 1 piece | 2,1 mg |
| Telescopic Additional Plank | Polipropylene, CPL | 2100x150x10 mm | 1 piece | 2,1 m |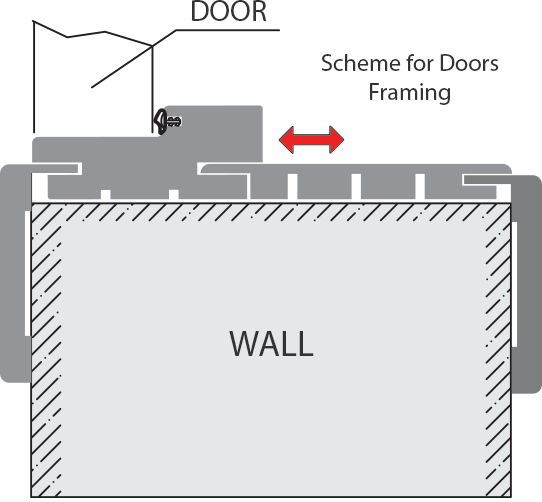 | | |
| --- | --- |
| | Telescopic casing T70 |
| | Door Box ДКПРТ74 |
| | Additional Telescopic Plank |